Beauty Rituals & Self-Care
How to use a Facial Teishin Beauty Wand: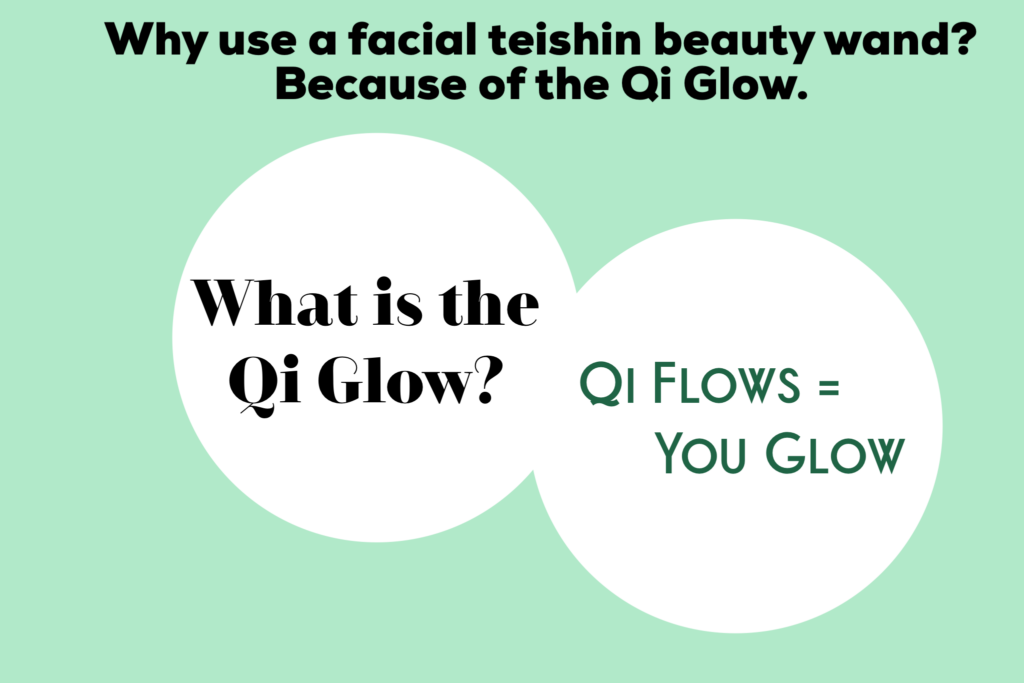 Teishins are traditional  Japanese acupuncture tools. For the complete story, click here: History of Teishins
Teishins are designed to move qi. Stagnant qi can cause dull skin, uneven skin tone, and even facial pain. 
Dr. Ellerie learned Japanese acupuncture while attending the National University of Natural Medicine, studying under Bob Quinn. She learned to give patients facial treatments using a teishin from Japanese Acupuncturist Takahiro Funamizu, a master of teishin treatments. He treated patients using facial teishin techniques for trauma and PTSD after the tragic Tohuku earthquake and tsunami in 2011. This treatment is very soothing and calming. While attending Sensai Funamizu's conference in 2018, Dr. Ellerie was able to show him the facial teishin beauty wand, her own unique teishin design. He approved! Dr. Ellerie adapted this protocol to a self care technique to help folx self-soothe during the stress of the 2020 pandemic. 
Follow along step-by-step: 
This self-care ritual takes about 10 minutes. The three keys to a good treatment are noticing texture, the way the surface of the skin feels, noticing tone, how the face feels right under the surface of the face, and always being gentle. 
1. Start at Chin
2. Bottom of jawline
3. Between the cheeks and jawline.
4. Cheekbone
5. Sinuses
6. Under Eyes
7. Under brows
8. Temples
9. Between eyebrows
10. Sunset pattern on forehead
11. Lips
12. Other side of face repeating steps 1 – 10.
13. Scalp using pointed side of beauty wand.
14. Down neck.
1. Jawline – use the double bump side to scupt the jawline.
2. Massage underneath the ear with edge of tool. 
3. Between the cheeks and jawline using the flat edge of the tool.
4. Cheekbone – Use the double bump side of the gua sha to scupt.
5. Sinuses. use the flat side of the tool. 
6. Under Eyes
7. Under brows
8. Temples
9. Between eyebrows
10. Sunset pattern on forehead
11. Lips
12. Other side of face repeating steps 1 – 10.
13. Down neck – do not skip!  
14. Under the clavicle. 
Why use a gua sha? This facial gua sha technique moves congestion out of the face which clears toxins and increases microcirculation. Immediate results are a more sculpted look and a healthy glow. With regular use, gua sha can clear the skin, reduce blemishes, and even lessen rosacea. 
The goal of a gua sha treatment is open the energetic channels in the face and also stimulate the fluid layer to increase circulation which helps detoxify.
While many folks talk about gua sha clearing lymphatic fluid, that is not an indication in Chinese Medicine. Gua sha is traditionally used to release muscle tension and 'vent' the skin releasing trapped heat. Be gentle with your face! Being overly zealous can result in a 'sha' reaction which looks like a red rash. This is petechia which is not dangerous but will look like a hickey. No thanks! 
Before a gua sha treatment, I apply the Gua Sha Oil to my face. This allows the tool to glide over the skin rather than stretch the skin. Additionally using a nutrient dense oil like Qi Glow will deeply absorb during the treatment.  
Unless instructed otherwise, this technique is best with an almost flat angle to the face. Think around 15 degrees – this will make sense if watching the video. The pressure of the tool should be gentle. Probably more gentle than you think. 
Need a gua sha or gua sha oil, click here to visit my shop! Available in rose quartz and jade. 
Learn how to use the Facial Teishin
Beauty Wand:

Follow along on this demonstration as Dr. Ellerie teaches Dr. Trevor Cates, aka The Spa Dr., the technique in using the facial teishin beauty wand for a self care facial and for lowering stress. The first half this talk is about all things Chinese Medicine and skin. At 21:55 we go through a full facial teishin treatment together. Check out how ridiculously relaxed we are at the end of this video.